Materials and Characterization Laboratories
Dr. Florenca Paray (514) 398-3590
- Sample preparation
- Light Optical Microscopy
- Stereomicroscopy
- Quantitative metallography
- Image analysis
Robert Paquette, Technician (514) 398-5587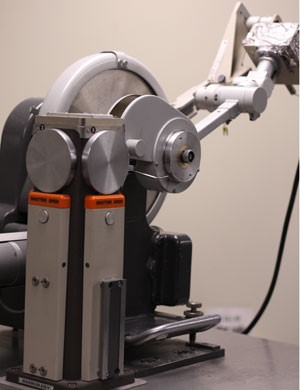 - Heat treatment
- Hardness testing (Vickers, Knoop, Rockwell, Brinell, Microhardness).
- Mechanical Testing(Charpy, tensile, three points, four points bending, etc.)

X-Ray Diffractometers

Philips PW 1710 Powder X-Ray Diffractometer
- Identification of constituents and crystalline structure of minerals, corrosion products, and inorganic materials.
- Qualitative and semi-quantitative analysis of crystalline phases in a sample
Monique Riendeau, Technician (514) 398-2610


Bruker D8 Discovery X-Ray Diffractometer
- High-tech, non-destructive technique for analyzing a wide range of materials, including fluids, metals, minerals, polymers, catalysts, plastics, pharmaceuticals, thin-film coatings, ceramics, bio-materials, and semiconductors.
- Use of radiation from a Co-tube for texture and residual stress investigations.
- Typical XRD diffraction analyses.
Dr. Florence Paray (514) 398-3590